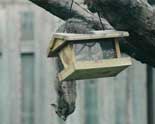 Before...
This is what one of our customers Kandy Burns had to deal with before she found Squirrel Proof Wild Bird Seed.

Squirrel proof Wild Bird Seed Products have been university tested and scientifically formulated with our patented Chili TreatTM brand of chili pepper technology to attract birds while repelling squirrels from your bird-feeding environment.
Birds love Squirrel Proof Wild Bird Seed Products because they do not sense the heat that makes chili peppers taste hot. Squirrels and other mammals do not like the hot taste of Chili TreatTM and soon these persistent intruders learn to look elsewhere for food. Squirrel Proof products are all natural, organic and non-toxic. Our goal is to make backyard wild bird feeding more enjoyable for you and the birds.